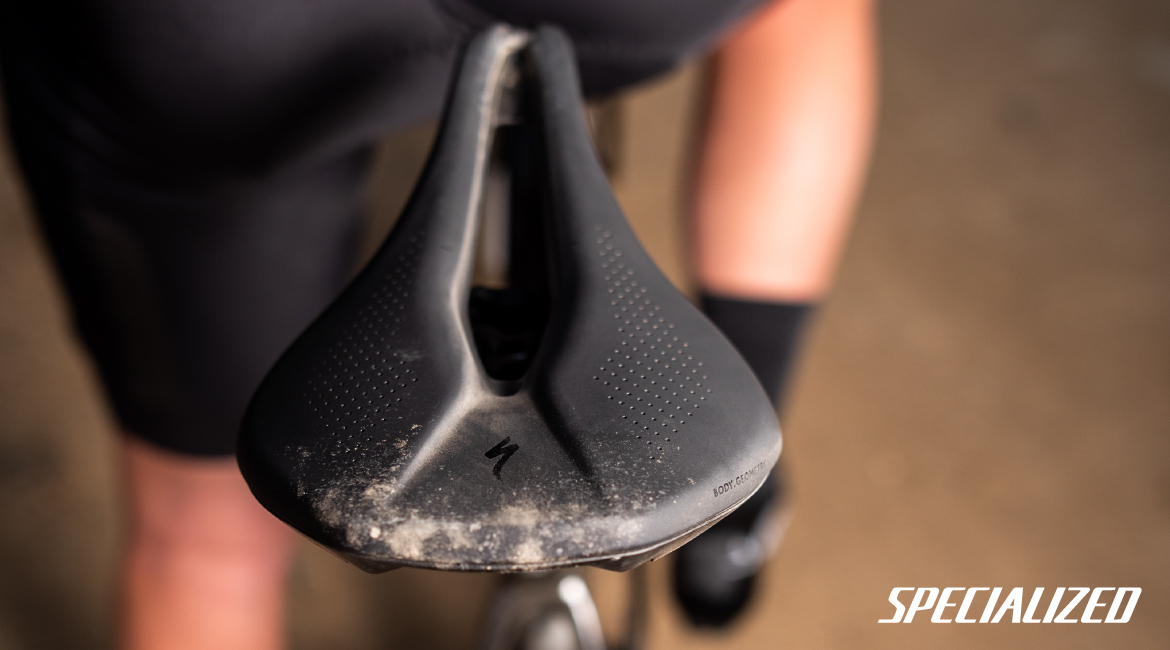 Body Geometry
There is no way to separate Specialized's saddles from the Body Geometry concepts that define them. Developed and evolved through years of lab and real world testing, the science is driven by anatomical references and cycling ergonomics. BG saddle design is applied via three concepts. First is saddle width based on the distance between the open ends of the ischial tuberosity curve (sitbones). Second is the degree of forward rotation of the pelvis in the dominant riding position, which helps to define the saddle shape a rider will be comfortable on. The third is a relief channel that reduces or eliminates pressure on the perineum or soft tissue zones. These concepts integrate in every saddle design.
Match a rider's sitbone and saddle width to lift and carry weight on the bone structure. A rider generally finds a shape that encourages and supports their riding posture. Where the rider is positioned on the saddle, the width, and length drive the size, shape and location of the channel. Every Specialized saddle has a defined shape, comes in widths and has a relief zone. You maximize the necessary contact point and minimize discomfort.
View our Specialized saddle collection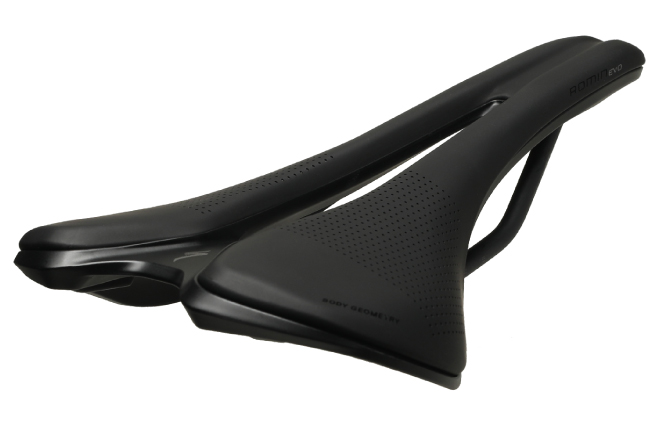 Saddles
Within the Specialized Body Geometry Saddle line-up there are a few model distinctions between road and all-terrain, but these apply to some features, not limitations. With width, build grade, and potentially even padding level differences within a series, every rider has options. The most popular right now is the race-oriented Power, a short length design that is optimal for an aggressive position. It quickly proved to work well with many riders for road, cross and gravel. Like all series, Power has S-Works, Pro, Expert and Comp levels.
The Romin Evo-series features a more traditional race length and shape, favoring aggressive to semi-aggressive riders. It has been popular across disciplines over the years with those who favor more fore-aft movement. For those seeking more of a true all-terrain design, the Phenom is your choice. Ideal for long hours on rough surfaces, with length and a tail shape ideal for handling and stability, the Phenom is a great all-rounder.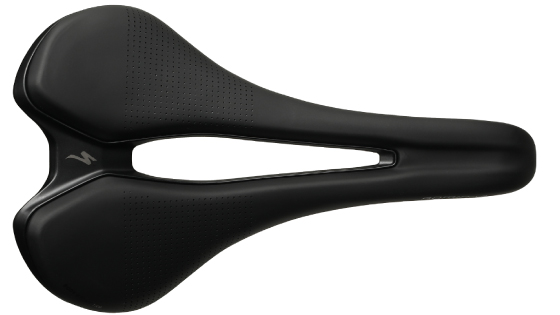 MIMIC
MIMIC is a technology, not a saddle model, and it was designed to offer comfort and support for women, though many men find it comfortable as well. What is MIMIC? Essentially a system of layered proprietary padding that sits within the relief channel of the saddle to actually support soft tissue. Specialized found that an open channel could actually cause discomfort and after much testing in the lab and on the road, found that many women benefitted from a soft memory foam that mimicked the anatomical shape of the soft tissue zone, lending support without pressure. The softest, slightly recessed central section gradually moves to a thinner layer forward to the nose, offering more surface area.
MIMIC has proven to be extremely effective and highly regarded, hence why you see it throughout the Body Geometry saddle line-up and from S-Works to Comp levels. MIMIC saddles feature a subtle silver pattern that highlight the padding zones.