Tools & Maintenance Torque Wrenches & Sockets
Park Tool PTD-5 Preset Torque Driver 5Nm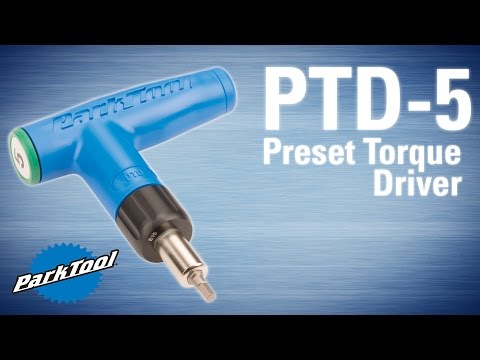 Modern bicycles feature many bolts that may have a 5NM Max torque spec and it is in your interest to adhere to this maximum. Torque specifications aren't just suggestions, but crucial for safe use and preventing damage to components and the smiling visage of the unsuspecting rider. Pro techs know that their customer's well being rides on their every action. The trust required is a large part of why even cyclists capable of working on their own bikes bring their steeds to a shop for service. For shops, time is money and precision is crucial. Preset (not adjustable) torque drivers are quick, reliable, and simple. Tighten until you hear the click, then put the tool down. The Park PTD-5 Preset Torque Driver is coveted in shops and more than useful for anyone who works on their own bike.
Park Tool assembles and calibrates the PTD's in their Minnesota factory, ensuring accuracy and minimal handling post calibration. The PTD-5 delivers 5Nm of torque via an all metal internal construction, through a comfortable, ergonomic, composite molded grip and out a 1/4" standard Hex driver magnetic interface. The tool comes with four bits, with hidden storage in the handle end for the three not being used. You get 3, 4, and 5mm 1/4" Hex driver bits, and a Torx T25, which are among the most commonly used sizes for stem and seatpost related bolts, as well as derailleur mounting bolts and parts that require a 5Nm max torque.
The short end of the driver handle is clearly marked with the torque specification, and is color-coded as well, so if you reach into your tool box, you can quickly and correctly select the proper PTD for the job. park has built these units to last, and to be reliably simple. The torque limit click is loud, and you can feel the limit through the handle, meaning you won't have any excuse for applying excess torque. Let the tool do the job and protect the equipment and rider with precision Preset Torque Drivers from Park Tool.
Features
Preset, ergonomic, shop quality, click-type torque limiting hand driver for 5Nm max
All metal internal construction delivers reliable torque with consistency, durability
Ergonomic handle is offset to one side for leverage, molded composite construction
Steel extension has magnetic 1/4 standard Hex key driver interface
Tool includes 4 tool tips: 3, 4, 5mm Hex keys, and Torx T25
Three bit are stored in end cap of handle, 4th tool in Hex interface
Tool is assembled and calibrated at Park Tool's factory in Minnesota
Limits torque applied to fasteners rotating clockwise (direction cannot be changed)
Short handle end color coded (Green) and number with preset Torque in Nm